In 1858, two years after Northfield was founded, the members of the Episcopal Ladies Social Circle organized the parish of All Saints. The new congregation held services in the Northfield Lyceum building, which still stands on 4th Street. By 1866, the parish had outgrown this modest meeting space, and Solomon Burleson was engaged to design and construct the new church, which was completed by Christmas of that year at a cost of $3000. The architecture is a style that has been called "Prairie Gothic" — reflecting a nineteenth-century desire to revive the Gothic style of the Episcopal tradition's Anglican roots, using materials appropriate to the midwest frontier.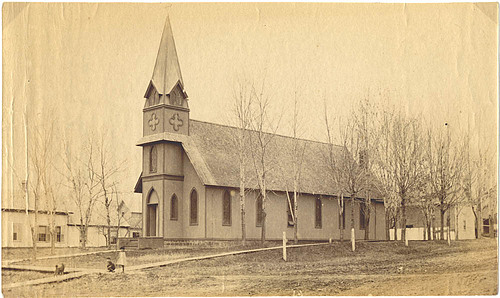 The original church looked much as it does today, including twelve stained glass windows made by George A. Misch & Brothers of Chicago, though the structure was less deep and had a short bell tower in place of the current steeple. In 1869, the Sunday School children led a drive to purchase a bell for the tower, and the 1400 pound bell was installed in the current spire. Ten years later, an influx of members, particularly students from Carleton College, prompted an expansion of the building, and the chancel (the section with the altar) was shifted twenty feet east, and the opening filled with new walls, windows, and — most importantly — more pews.
Over the next century, few major changes were made to the church itself; a basement was dug, additions were built on, new furnishings and coats of paint were added, but the worship space remained relatively unchanged. Then, in 1982, a committee was formed to oversee the renovation of the church interior with an eye toward restoring the historic character of the space. The project was completed in 1988, and included window repair, refinished and replaced floors, new pews based on original designs, and other new wood furnishings. A planned finishing touch on the renovation, the installation of 1880s-style hanging lamps, was completed in 2003.
In 2013-14, a major renovation project refreshed the original historic church and replaced all the other structures on the property with a fully accessible two-level addition which has greatly increased our capacity to host activities for ourselves and for the wider community.
Today, All Saints church, the oldest church building in Northfield and one of the few churches remaining in the downtown area, is home to a thriving Episcopal congregation which continues its historic tradition of meaningful worship, service to the community, and campus outreach.